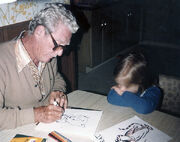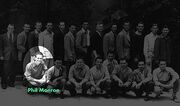 Phillip "Phil" Monroe (October 31, 1916 - July 13, 1988) was an American animator and director best known for working for Warner Bros. Cartoons under the supervision of Chuck Jones. Monroe has also worked for UPA, DePatie-Freleng Enterprises, and MGM Animation/Visual Arts. Monroe was one of Jones' master animators, along with Ken Harris, Ben Washam and Abe Levitow. In 1951, Monroe left for UPA, working under the supervision of John Hubley and Pete Burness. He eventually left UPA to freelance, and in 1959 went back to Warners to head their commercial department, where he directed commercials featuring Charlie the Tuna.[2] He eventually went back into the entertainment department as an animator in Jones' unit, and was chosen to finish two shorts under Chuck Jones' unit after Jones was fired. After Warner Bros. Cartoons closed in 1963, Monroe did many animation stints until he ended up at Chuck Jones Productions. He would continue animating for Jones until his retirement.
Looney Works
| | |
| --- | --- |
| This page or section is under construction. Please help us work on it. | |
Animator
Main article: Category:Cartoons animated by Phil Monroe
Director
Ad blocker interference detected!
Wikia is a free-to-use site that makes money from advertising. We have a modified experience for viewers using ad blockers

Wikia is not accessible if you've made further modifications. Remove the custom ad blocker rule(s) and the page will load as expected.