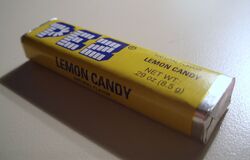 Pez (trademarked PEZ in capitals) is the brand name of an Austrian candy and their mechanical pocket dispensers invented in 1927 by Austrian candy maker Eduard Haas III. Many Pez dispensers featured Looney Tunes characters on them.
Dispensers
Gallery
Looney Tunes Dispensers
Ad blocker interference detected!
Wikia is a free-to-use site that makes money from advertising. We have a modified experience for viewers using ad blockers

Wikia is not accessible if you've made further modifications. Remove the custom ad blocker rule(s) and the page will load as expected.