Stamped on February 2017. This article or section does not cite any sources. Please add reliable citations to help verify the article's content.
Do not use Wikipedia or any other wikis as a source. Unsourced info can be questioned and eventually removed.

| | |
| --- | --- |
| This article/section is a stub. You can help Looney Tunes Wiki by expanding it. | |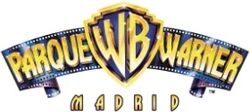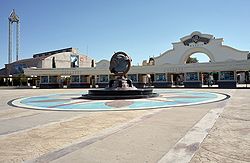 Parque Warner Madrid (previously known as Warner Bros. Movie World Madrid and Warner Bros. Park) is a theme park located 25 km southeast of Madrid, Spain, in the municipality of San Martín de la Vega, which opened on April 6, 2002.[citation needed|date=]
Attractions
DC Superheroes World
TBA
Warner Bros. Studios
TBA
Old West Territory
TBA
Cartoon Village
TBA
Rápidos ACME - River Rapids ride
ACME Park - Playground with pool balls
ACME, juegos de agua - Water Games
Correo Aéreo - Family flat ride of Elmer Fudd
Cohetes Espaciales - Children's flat ride of Marvin the Martian
La madriguera de Bugs Bunny - Bugs Bunny House
El camerino del Pato Lucas - Daffy Duck House
La casa de la abuelita - Tweety and Sylvester the Cat House
Correcaminos Bip Bip - Family Roller coaster
¡A toda máquina! - Rocking tug of Foghorn Leghorn
He visto un lindo gatito - Kite Flyer of Tweety
Emergencias Pato Lucas - Fire Brigade of Daffy Duck
Los juegos de Marvin el marciano - skill games of Marvin the Martian
Ad blocker interference detected!
Wikia is a free-to-use site that makes money from advertising. We have a modified experience for viewers using ad blockers

Wikia is not accessible if you've made further modifications. Remove the custom ad blocker rule(s) and the page will load as expected.