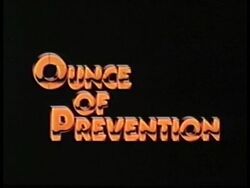 Ounce of Prevention is a 1982 Looney Tunes twelve-minute Public Service Announcement television special starring Bugs Bunny, Daffy Duck, Sylvester, and Tweety. The special was originally released in December 1982 and was co-produced by Warner Bros. and Blanc Communications.
Plot
Bugs Bunny and friends are featured in this program about burn prevention in the home. Bugs, Daffy Duck and Sylvester demonstrate practical ways to avoid burn injuries: avoiding burns in the kitchen, preventing scalding burns in the bathtub, planning escape routes and meeting places, and getting out of the house quickly. The dangers of playing with matches and improper storage of flammable liquids indoors are illustrated. The value of smoke detectors, escape planning and crawling low in smoke, as well as the dangers of hiding under the bed or in closets during a fire, are emphasized.
Notes
A public service safety film made for the Shriners Burns Institute in Cincinnati.
Combined live action and animation.
Animated excerpts were shown in the form of one-minute interstitials on ABC during Saturday mornings in the 1980s.
Traditional, Hand-drawn Animation.
Credits
1982
Animated TV Special
Warner Bros., Blanc Communications
TV Special
Cartoon Characters: Bugs Bunny, Daffy Duck, Sylvester, Tweety.
Characters, Live Action: Mel Blanc, Beth, Tommy, Jennifer.
Vocal Talent: Mel Blanc.
Actors, Live Action: Erin Robert (Jennifer).
Directed By Gerry Chiniquy.
Director, Live Action: Patrick Baily.
Produced By Hal Geer.
Producer, Live Action: Patrick Baily.
Executive Producer: Noel Blanc.
Gallery
Videos