| | |
| --- | --- |
| This article is a stub. You can help Looney Tunes Wiki by expanding it. | |
Nutty News is a 1942 Looney Tunes cartoon directed by Bob Clampett.
Plot
Elmer Fudd narrates a series of events presented in gag-like ways.
Home Video
None, Public Domain DVD and VHS only.
Censorship
The version shown on Nickelodeon not only cut the entire scene of the new invention that forces little boys to sit still while getting their hair cut (a jack-in-the-box with the head of Adolf Hitler as the jack), but also showed the title card to the cartoon as right side up rather than upside down before correcting itself.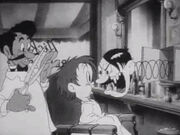 Ad blocker interference detected!
Wikia is a free-to-use site that makes money from advertising. We have a modified experience for viewers using ad blockers

Wikia is not accessible if you've made further modifications. Remove the custom ad blocker rule(s) and the page will load as expected.