Nintendo Entertainment System (also abbreviated as NES) is an 8-bit video game console that was developed and manufactured by Nintendo. It was initially released in Japan as the Family Computer (ファミリーコンピュータ Famirī Konpyūta) (also known as the Famicom (ファミコン Famikon) and abbreviated as FC) on July 15, 1983, and was later released in North America during 1985, in Europe during 1986, and Australia in 1987. In South Korea, it was known as the Hyundai Comboy (현대 컴보이) and was distributed by SK Hynix which then was known as Hyundai Electronics. It was succeeded by the Super Famicom/Super Nintendo Entertainment System.
Looney Games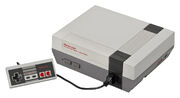 Ad blocker interference detected!
Wikia is a free-to-use site that makes money from advertising. We have a modified experience for viewers using ad blockers

Wikia is not accessible if you've made further modifications. Remove the custom ad blocker rule(s) and the page will load as expected.