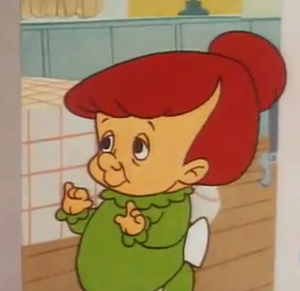 Mrs. Elmer Fudd is a Looney Tunes character.
Description
Mrs. Fudd is the wife of Elmer Fudd. She looks like a sweet female version of Elmer Fudd with red hair in a bun and wears a green dress with a white apron. In a 1981 jigsaw puzzle depicting about 105 Looney Tunes characters, she has gray hair and a red dress with a white apron. She also has the same speech pattern as Elmer.
Appearances
Ad blocker interference detected!
Wikia is a free-to-use site that makes money from advertising. We have a modified experience for viewers using ad blockers

Wikia is not accessible if you've made further modifications. Remove the custom ad blocker rule(s) and the page will load as expected.