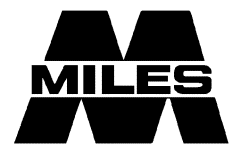 Miles Laboratories was founded as the Dr. Miles Medical Company in Elkhart, Indiana, in 1884 by Franklin Miles, a specialist in the treatment of eye and ear disorders, with an interest in the connection of the nervous system to overall health. Miles operated as an independent firm from 1884 until 1979 and as a wholly owned subsidiary of Bayer AG from 1979 until 1995, when it was consolidated into the parent corporation.
In 1971, Miles Laboratories began producing a series of Bugs Bunny Vitamins.[1] In 1984, a new formulation with no added sugar was introduced.[1]
Video
References
Ad blocker interference detected!
Wikia is a free-to-use site that makes money from advertising. We have a modified experience for viewers using ad blockers

Wikia is not accessible if you've made further modifications. Remove the custom ad blocker rule(s) and the page will load as expected.