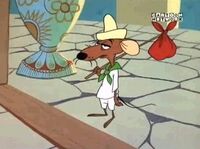 Mexican Boarders is a 1962 Looney Tunes cartoon directed by Friz Freleng and Hawley Pratt.
Plot
Speedy Gonzales's cousin Slowpoke Rodriguez pays a visit to Speedy's hacienda. Sylvester the cat believes that he will be able to have Slowpoke for dinner. Incorrectly.
Censorship
On Nickelodeon, the beginning where Sylvester is introduced as "The most pooped cat of all Mexico because he was chasing the fastest mouse of all Mexico" while Sylvester downs a bottle of pep pills was cut. Earlier Nickelodeon versions cut the entire part while later versions replaced Sylvester's pill-popping with a freeze-framed shot of a tired Sylvester on the ground.
Video