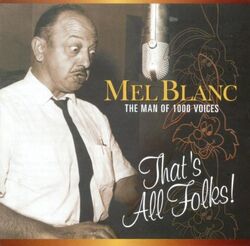 Mel Blanc: The Man of 1000 Voices: That's All Folks! is a 2007 Remember soundtrack album featuring songs performed by Mel Blanc.
Track listings
I Taut I Taw A Puddy Tat
Yosemite Sam
Woody Woodpecker
Toot, Toot, Tootsie!
Big Bear Lake
K-K-K-Katy
Ten Little Bottles In The Sink
I'M Glad That I'M Bugs Bunny
Daffy Duck'S Rha
I Tell My Troubles To Joe
Lord Bless His Soul
Morris
Yah Das Ist Ein Christmas Tree
Hat I Got For Christmas Is Too Beeg
Little Red Monkey
Pussy Cat Parade
Somebody Stole My Gal
I Love Me (I'M Wild About Myself)
I'M In The Mood For Love
Money
That'S All Folks!
Mel Blanc Fix-It Shop Song (Bonus Track)
Mel Blanc As Private Sad Sack (Bonus Track)
Bugs Bunny And Elmer Fudd First Meet (From Bugs Bunny Meets Elmer Fudd)(Bonus T
Henery Hawk And Foghorn Leghorn Sing (From Henery Hawk'S Chicken Hunt)(Bonus Tra
Speech From Los Angeles Chamber Of Commerce (Bonus Track)
Professor Leblanc Gives Jack Benny A Violin Lesson (Bonus Track)
Clink, Clink Another Drink (Spike Jones & The City Slickers)(Bonus Track)
Mel Blanc (As "The Drunk") & Del Porter (Vocals)(Bonus Track)
Gallery
Ad blocker interference detected!
Wikia is a free-to-use site that makes money from advertising. We have a modified experience for viewers using ad blockers

Wikia is not accessible if you've made further modifications. Remove the custom ad blocker rule(s) and the page will load as expected.