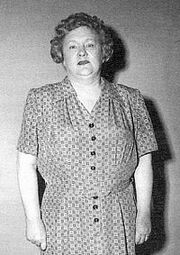 Verna Martha Wentworth
 (June 2, 1889 – March 8, 1974) was an American actress. Having had a long radio career since the early 1920s, listeners recognised her as The Wintergreen Witch on 
The Cinnamon Bear
 radio program (1937), Annie Wood and Mrs. Littlefield on 
Crime Classics
 (1953), Ma Danields on 
The Gallant Heart
 (1944), as well several semi-regular roles on 
Broadway Is My Beat
, 
On Stage
, and 
The Abbott and Costello Show
.
She later became a film actress in the 1940s, starring in several Red Ryder Western films. She worked as a voice artist for Walt Disney Studios; as Nanny, Queenie the Cow and Lucy the Goose in One Hundred and One Dalmatians (1961) and as Madame Mim in The Sword in the Stone (1963), her final credited film appearance.
She died eleven years later at the age of 84.
Looney Work(s)
Martha voiced characters in:
Ad blocker interference detected!
Wikia is a free-to-use site that makes money from advertising. We have a modified experience for viewers using ad blockers

Wikia is not accessible if you've made further modifications. Remove the custom ad blocker rule(s) and the page will load as expected.