Mama Buzzard is the mother of Beaky Buzzard and is voiced by Sara Berner and Tress MacNeille.
Description
Mama more closely resembles a vulture than a buzzard. Like her son, Beaky, she has black body feathers and a white tuft around her throat. Her neck is long and thin, bending halfway. Her neck and head are featherless, and her beak is large and yellow or orange. She speaks with an Eastern European accent.
Filmography
Post-Golden Age
Mama appears in episodes of The Sylvester & Tweety Mysteries. She also made a cameo in the movie Space Jam.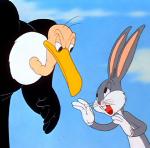 Ad blocker interference detected!
Wikia is a free-to-use site that makes money from advertising. We have a modified experience for viewers using ad blockers

Wikia is not accessible if you've made further modifications. Remove the custom ad blocker rule(s) and the page will load as expected.