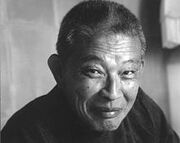 Mako Iwamatsu (December 10, 1933 – July 21, 2006) was a Japanese-born American actor and voice artist who has been nominated for numerous awards. Many of his acting roles credited him simply as Mako where he omits his surname.
Two of his well-known voice roles are Aku from Samurai Jack and Iroh from Avatar: The Last Airbender.
Looney Roles
Ad blocker interference detected!
Wikia is a free-to-use site that makes money from advertising. We have a modified experience for viewers using ad blockers

Wikia is not accessible if you've made further modifications. Remove the custom ad blocker rule(s) and the page will load as expected.