About this wiki
Eh, what's up, doc? Welcome to the Conversational Looney Tunes Project, a.k.a The Looney Tunes Wiki, a project based community with passionate editors and a major source for all things "looney-tuney" since January 2006! Currently, the team is currently editing 3,769 articles and 16,422 images! YOU can help us out on the project by joining today! Also to parents, we recommend our Parent Page to help you decide if Looney Tunes is the right kind of program for your child. We also advise checking out our new Terms, starting April 29, 2017. Happy editing, folks!
Help us out!
Not sure where to start, doc? Head on over to our
To-Do List
for projects we're currently working on! You can also ask a fellow
Acme Head
or
Wizard
for other things you can do!
TV Times

The place to go to see tunes on the network. Check out the Looney Tunes TV Tracker, maintained weekly by member
TheCityMaker
! (
read more...
)
Characters
Latest Media
New Looney Tunes
, "Wabbit - A Looney Tunes Prod" in the United States, is a
Boomerang
show focusing on Bugs Bunny as well as other characters with new adventures in the form of shorts. The show aired on September 21, 2015. (
read more...
)
Featured Media
Porky Pig 101
is a DVD featuring Porky Pig's first 101 appearances. It was released on September 19, 2017 and contains some never-seen before cartoons to home video. (
read more...
)
Featured Character

Sylvester
is a cartoon character created by
Friz Freleng
in 1945. His cartoons won 3 Academy Awards, the most for any LT character. (
read more...
)
Poll
What's your favorite Looney Tunes spin-off?
Recent Blogs
Hey, so i'm currently setting up a discord server for this wiki, I need to know your wiki username so I can give you the role you deserve in the server.

Link: https://discord.gg/SVkgaWw

Read more >

(I originally posted these on our Porky Pig 101 thread, but for the sake of making it easier to find, I'm moving it here.)

I am very happy to report that I received my copy of Porky Pig 101 today (the pr…

Read more >

So as soon as I order a copy of "Porky Pig 101" from Warner, and as soon as I get it, i'll be posting a ton of remastered title card snapshots from the golden collection, to super stars, and then, ot…

Read more >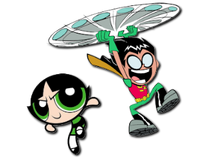 Ad blocker interference detected!
Wikia is a free-to-use site that makes money from advertising. We have a modified experience for viewers using ad blockers

Wikia is not accessible if you've made further modifications. Remove the custom ad blocker rule(s) and the page will load as expected.