Home
Talk

16
2,487pages on
this wiki
About this wiki
What's up, docs? Welcome to Looney Tunes Wiki, the ultimate source for all things "looney-tuney" since January 2006! We are currently editing 2,487 articles and 8,643 images! Help us out by joining today! Also to parents, we recommend our Parent Page to help you decide if Looney Tunes is the right kind of program for your child. Enjoy the wiki, folks!
Help us out!

Not sure where to start, doc? Head on over to our
To-Do List
for projects we're currently working on! You can also ask a fellow
Acme Head
or
Wizard
for other things you can do!
TV Times

Want to know when your favorite short is on TV? Or just curious what's airing this week? Check out the latest Looney Tunes TV Tracker, maintained by member
ClassicNickelodeon Fan 1
! (
read more...
)
Characters
Latest Media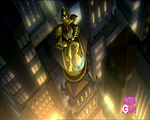 SuperRabbit is the 52nd episode and series finale of The Looney Tunes Show. Bugs tells the story of SuperRabbit, with himself as SuperRabbit, Elmer Fudd as Lex Luthor, and Daffy as Zod! This episode aired in Canada on November 3rd, 2013, and was leaked and found online on November 2nd, 2013, from an Australian recording recorded from the channel GO!(
read more...
)
Featured Media
The Wearing of the Grin
is a 1951 Warner Brothers short released under the Looney Tunes banner. It was released as a Blue Ribbon Merrie Melodie as well. It was originally released July 14th, 1951, and was re-issued sometime in the '59-'64 season. The production code is unknown due to the fact that none shows up on screen.(
read more...
)
Featured Character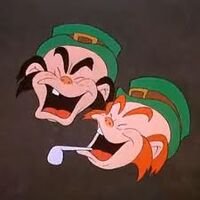 The Leprechauns
are two characters (one with a black beard an the other with an orange beard) that have appeared in the classic Looney Tunes short The Wearing of the Grin. In this short, Porky Pig does not believe in leprechauns, and the two leprechauns to decide to teach Porky a lesson by pulling pranks on him.(
read more...
)
Featured Person/Featured User
Wacko2 is an active user at the Looney Tunes Wiki. He has made 30 edits as of 3/1/14. Keep up the good work Wacko2!