Home
Talk

15
2,266pages on
this wiki
Welcome to Loonipedia!
About this wiki
What's up, docs? Welcome to Loonipedia, the ultimate source for all things "looney-tuney" since February 12th, 2006! We are currently editing 2,266 articles and 4,511 images! Grab a carrot and help us out by joining today!
Monthly Featured Article For May 2013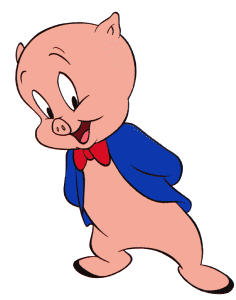 Porky Pig is an animated cartoon character in the Warner Bros. Looney Tunes and Merrie Melodies series of animated cartoons. He was the first character created by the studio to draw audiences based on his star power, and the animators (particularly Bob Clampett) created many critically acclaimed shorts using the fat little pig. Even after he was supplanted by later characters, Porky continued to be popular with moviegoers and, more importantly, the Warners directors, who recast him in numerous everyman and sidekick roles. He is known for his signature line at the end of each short, "Th-th-that's all folks!" but in fact this slogan had been used by both Bosko and Buddy and even Beans at the end of every Looney Tunes cartoon. In contrast, the Merrie Melodies series used the slogan: So Long, Folks! until the late 1930's when it was replaced with the same one used on the Looney Tunes series. (Read more!)
Monthly Poll For May 2013
Which Looney Tunes film are you most excited for?
Newest Articles