It has been decided that the Looney Tunes Wiki will no longer use this feature. This Term is kept for historical purposes.
Last revision on: 08/09/2017
The chat room is for socializing; it can be accessed here. Wiki discussion should be held in the forum. The chat room is no longer in use due to a lack of activity.
Chat Guards
Please contact any Acme Head if you need help.
For further assistance, contact Wikia.
Chat Policies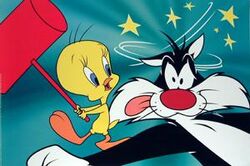 No harassing, trolling, persecution, mockery or cyberbullying
No racism, sexism, homophobia, transphobia, ableism, xenophobia, or any other form of prejudice
No inappropriate links/images
No sex talk
No swearing (see Looney Tunes Wiki:Allowed Words for more details)
Please do not ask for chat moderators if you do not qualify to be done, (first joining the wiki, for example)
No making fun of other people's thoughts, interests, or ideas
Must be at least 13 years of age (Wikia rule)
No spamming - use emotes properly
Moderator Guidelines
A mod is not above another user, nor is the user. Everyone is equal, and should be treated as such. Give reasons as to why a user is being wrongful instead of automatically banning them, unless it is needed.
Kicking & Banning
Chatters may be kicked or banned without warning only for unwanted spam or violations of the Wikia Terms of Use. Otherwise, chatters must be notified about their specific inappropriate behavior before being kicked or banned.
Please don't use threatening language in notifications. Simply explain how the chatter's behavior is inappropriate, and only give warnings when necessary.
Please keep ban lengths short, a day to a week at most. People may learn their lesson in the end. If you keep ban lengths long, they may be banned forever.
Ad blocker interference detected!
Wikia is a free-to-use site that makes money from advertising. We have a modified experience for viewers using ad blockers

Wikia is not accessible if you've made further modifications. Remove the custom ad blocker rule(s) and the page will load as expected.