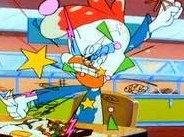 Swearing is not allowed here. If you say any of the words that are not allowed, you will receive 1 warning (or none, depends how the admin feels about it) before a 24 hour anvil drop.
Allowed words
Gosh
Crap
Freaking
Fudge
Sucks
Darn
Dang
Damn
Arse
Ass (in moderation)
Hell
Heck
Douchebag (non-insulting)
Retard (non-insulting)
Turd
These words may not be used to insult others. Misuse of this policy will result in bans.
Words that are NOT allowed
Due to the amount of kids viewing the website, we forbid the use of these words unless you are quoting from a piece of official Looney Tunes material. Use of any of these words puts users at liability to be banned without warning.
Fuck
Nigger
Shit
Cunt
Dick
Clit
Pussy
Faggot
Bitch
Any other slurs
Ad blocker interference detected!
Wikia is a free-to-use site that makes money from advertising. We have a modified experience for viewers using ad blockers

Wikia is not accessible if you've made further modifications. Remove the custom ad blocker rule(s) and the page will load as expected.