LOONEY TUNES
NOTE: Looney Tunes is pillarboxed (two black bars on top and bottom) on CN.
3/23/14 - 6am - A Mouse Divided/The Million Hare/What Makes Daffy Duck?
3/24/14 - 11am - From Hare To Eternity/Canary Row/Chaser On The Rocks/Prince Varmint/Robin Hood Daffy/Weasel While You Work/Rabbit Every Monday
3/25/14 - 11am - Bugs Bunny Rides Again/The Yolks On You/Clippety Clobbered/Captain Hareblower/Feed the Kitty/Claws in the Lease/The Hasty Hare
3/26/14 - 11am - To Hare Is Human/Ain't She Tweet/Banty Raids/A Witch's Tangled Hare/The Pest That Came to Dinner/Cat's A-Weigh/A Star Is Bored
3/27/14 - 11am - This is a Life/The Jet Cage/Corn on the Cop/Feather Bluster/Bewitched Bunny/Freudy Cat/Little Orphan Airedale
3/28/14 - 11am - Blooper Bunny/Duck Dodger and the Return of the 24 1/2th Century/Birds Of A Father/Kiss Me Cat/Dumb Patrol (1964)/Fool Coverage
3/29/14 - 6am - Water Water Every Hare/I Gopher You/Lighthouse Mouse
THE LOONEY TUNES SHOW
3/23/13 - 6:30am - French Fries
3/29/14 - 6:30am - Beauty School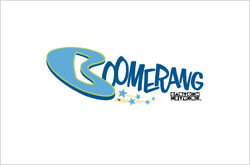 3/23/14 - 7am - Beep, Beep/Rabbit Seasoning/Leghorn Swoggled/Double Or Mutton/Snow Business/Rabbit Rampage/Frigid Hare
3/24/14 - 7pm - Compressed Hare/Claws in the Lease/Going! Going! Gosh!/You Were Never Duckier/Tired and Feathered/Bewitched Bunny/Carrotblanca
3/25/14 - 7pm - Birds Anonymous/Bill of Hare/Long-Haired Hare/Two Gophers from Texas/Dime to Retire/Mailman/Just Plane Beep/Sock A Doodle Do
3/26/14 - 7pm - Who's Kitten Who/Hare-Way To The Stars/Plop Goes the Weasel/Highway Runnery/Yankee Doodle Daffy/Lighter than Hare/Boobs In The Woods
3/27/14 - 7pm - Odor of the Day/Fast And Furry-ous/Rabbit of Seville/Fowl Weather/Little Red Rodent Hood/Abominable Snow Rabbit/Another Nixel/Chaser On The Rocks
3/28/14 - 7pm - Foxy by Proxy/Rhapsody Rabbit/A Bird in a Guilty Cage/Water Water Every Hare/Daffy Flies North/Boulder Wham!/Cat Feud
3/29/14 - 7am - Zip 'N Snort/Bunny Hugged/Baseball Bugs/Quack Shot/Daffy Duck Hunt/Mailman/Bully for Bugs/Tweety's Circus
NOTES
The Mixel Shorts Mailman and Another Nixel are airing as part of the Looney Tunes on Boomerang feeds on 3/25, 3/27, and 3/29 respectively.
Ad blocker interference detected!
Wikia is a free-to-use site that makes money from advertising. We have a modified experience for viewers using ad blockers

Wikia is not accessible if you've made further modifications. Remove the custom ad blocker rule(s) and the page will load as expected.