LOONEY TUNES
NOTE: Looney Tunes is pillarboxed (two black bars on top and bottom) on CN.
1/12/14 - 6am - The Slap Hoppy Mouse/A Witch's Tangled Hare/Don't Axe Me
1/13/14 - 11am - The Last Hungry Cat/14 Carrot Rabbit/Fool Coverage/Out and Out Rout/Tree For Two/Walky Talky Hawky/Robot Rabbit
1/14/14 - 11am - Water Water Every Hare/Duck Soup To Nuts/Tweet and Sour/Ready..Set..Zoom!/Prince Violent/Little Boy Boo/Scent-imental Over You
1/15/14 - 11am - Duck Dodgers and the Return of the 24 1/2th Century/Mad as a Mars Hare/Tweety's S.O.S./There They Go-Go-Go!/Captain Hareblower/Weasel Stop/Pop 'Im Pop!
1/16/14 - 11am - Hare Lift/The Ducksters/Room and Bird/Beep, Beep/Rabbitson Crusoe/Fox Terror/A Mouse Divided
1/17/14 - 11am - All A-Bir-r-rd/To Hare Is Human/The Yolks On You/To Beep or Not To Beep/Claws in the Lease/A Star is Bored/Don't Give Up The Sheep
1/18/14 - 6am - Snow Business/Clippety Clobbered/Hair-Rasing Hare
THE LOONEY TUNES SHOW
1/12/13 - 6:30am - Gossamer Is Awesomer
1/18/14 - 6:30am - Here Comes The Pig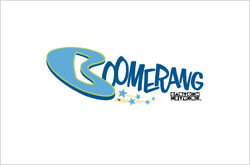 1/12/14 - 7am - A Kiddie's Kitty/Water Water Every Hare/Baton Bunny/Dr. Jerkyl's Hyde/Upswept Hare/What Makes Daffy Duck/Corn on the Cop
1/13/14 - 7pm - Bully For Bugs/Quack Shot/Zip 'N Snort/Tweety's Circus/Baseball Bugs/Daffy Duck Hunt/Bunny Hugged
1/14/14 - 7pm - French Rarebit/You Were Never Duckier/Hip Hip Hurry/Rabbit's Kin/Honey's Money/Tugboat Granny/The Honey-Mousers
1/15/14 - 7pm - For Scentimental Reasons/Hare Splitter/Robin Hood Daffy/A Bone For A Bone/Hoppy Go Lucky/Zipping Along/Bedevilled Rabbit
1/16/14 - 7pm - Baby Buggy Bunny/Heaven Scent/Just Plane Beep/All A-Bir-r-r-d/A Fractured Leghorn/Porky Chops/People Are Bunny
1/17/14 - 7pm - A Pizza Tweety Pie/Hair-Raising Hare/Scrambled Aches/Rabbit's Kin/Good Noose/Crowing Pains/Hare Trimmed
1/18/14 - 7am - From Hare To Eternity/Dog Pounded/Good Noose/Half Fare Hare/Boulder Wham/Show Biz Bunny/Robot Rabbit
NOTES
A Kiddies Kitty airs for the first time on Boomerang (the short has previously aired as part of the CN package).
Ad blocker interference detected!
Wikia is a free-to-use site that makes money from advertising. We have a modified experience for viewers using ad blockers

Wikia is not accessible if you've made further modifications. Remove the custom ad blocker rule(s) and the page will load as expected.