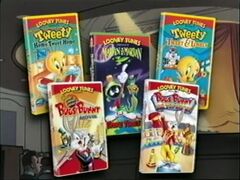 Looney Tunes Presents was the last collection of Looney Tunes videos released on the VHS format by Warner Home Video in 1998. It was the first from Warner Bros. to feature the pre-1948 Warner cartoon library on the same tapes as post-48 cartoons (since Turner and Time Warner merged in 1996).
Due to the fact that Warner planned to promote this series the "next generation" of Looney Tunes videos, nearly every previous Warner Home Video and every MGM/UA Home Video release was discontinued in 1999.
This was also the first Looney Tunes video compilation to use the new Warner Home Video logo introduced in 1996, which would continue to be used today.
(*)-Dubbed 1995 version (for pre-1948 shorts)
| Cover | Title | Featured cartoons |
| --- | --- | --- |
| | Marvin the Martian & K-9: 50 Years on Earth! | |
| | Marvin the Martian: Space Tunes (original version) | |
| | Marvin the Martian: Space Tunes (reissued version) | |
| | Tweety: Home Tweet Home | |
| | Tweety: Tweet and Lovely | |
| | Bugs Bunny: Big Top Bunny | |
| | The Looney Looney Looney Bugs Bunny Movie | |
| | Taz's Jungle Jams | |
Trivia
The video "Taz's Jungle Jams" was originally scheduled to include "Bushy Hare", "The Lion's Busy", and "Nelly's Folly". But the contents were changed shortly before release.
The pre-1948 shorts used in each tape are Turner "dubbed versions" as seen on Cartoon Network, in many cases complete and uncut. These dubbed versions are used again for Looney Tunes: The Collectors Edition VHS tapes by Columbia House.
The pre-1948 shorts appear less than the post-1948 shorts in tapes having a mixture of cartoons from the pre-1948 and post-1948 eras.
Categories
Ad blocker interference detected!
Wikia is a free-to-use site that makes money from advertising. We have a modified experience for viewers using ad blockers

Wikia is not accessible if you've made further modifications. Remove the custom ad blocker rule(s) and the page will load as expected.