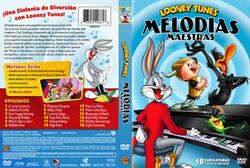 Looney Tunes Musical Masterpieces is a DVD set released on May 26, 2015. It consists of eighteen cartoons previously released on the Looney Tunes Golden Collection or the Warner Bros. Home Entertainment Academy Awards Animation Collection releases. The reason for this double-dip was an attempt to raise money to restore new shorts possibly for a fourth Platinum Collection volume which may include some shorts that haven't been released on DVD at all.[citation needed|date=]
Cartoons
Cartoons 1, 4, 9-11, 13, and 15-18 are in the AAP package. The rest are in the post-1948 package.
Video
Ad blocker interference detected!
Wikia is a free-to-use site that makes money from advertising. We have a modified experience for viewers using ad blockers

Wikia is not accessible if you've made further modifications. Remove the custom ad blocker rule(s) and the page will load as expected.