| | |
| --- | --- |
| This page or section is under construction. Please help us work on it. | |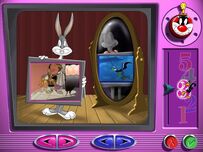 Looney Tunes Animated Jigsaws is a 1998 Looney Tunes game series.
It is based on the Looney Tunes cartoons with some of the all time favorite characters like Bugs Bunny, Daffy Duck, Tweety & Sylvester, Pepé Le Pew, The Tazmanian Devil, and others.
Any of these puzzles can be scaled up and down the difficulty scale, from level one (five pieces, mildly challenging) to level five (hundreds of pieces). The program even has two interfaces, one with pull-down menus, presumably for adults, and the other with large cartoon icons, for kids.
List of games
| Name | Img. | Looney Tunes cartoons used |
| --- | --- | --- |
| Assorted Nuts | | |
| Cosmic Capers | | |
| Merrie Masquerades | | |
| Wuv & Marriage | | |
Gallery
Levels of Difficulty
Gameplay
Assorted Nuts Puzzles
Cosmic Capers Puzzles
Merrie Masquerades Puzzles
Wuv & Marriage Puzzles
Other Puzzles
Videos
External Links
Ad blocker interference detected!
Wikia is a free-to-use site that makes money from advertising. We have a modified experience for viewers using ad blockers

Wikia is not accessible if you've made further modifications. Remove the custom ad blocker rule(s) and the page will load as expected.