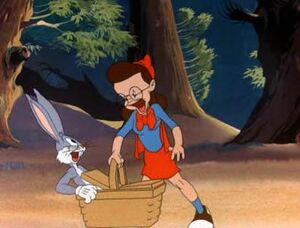 Little Red Riding Hood
is a character that has appeared in many
Looney Tunes
 and
Merrie Melodies
 cartoons. Her appearance changes in almost every appearance. However, in "
Little Red Riding Rabbit
", she is portrayed as an extremely loud and annoying character. This version later made a bunch of cameo appearances as one of the basketball watching spectators in the bleachers in the film
Space Jam
. She also appeared in
The Sylvester & Tweety Mysteries
(voiced by 
Tress MacNeille
) in episode 12 "
It's a Plaid, Plaid, Plaid, Plaid World
" as a character called "Myopia", who worked as a waitress at a pub in the town of Fergussie. She used to have perfect 20/20 vision but became nearsighted after being expose to Plaid.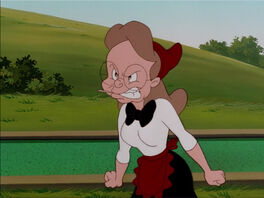 Appearances
Ad blocker interference detected!
Wikia is a free-to-use site that makes money from advertising. We have a modified experience for viewers using ad blockers

Wikia is not accessible if you've made further modifications. Remove the custom ad blocker rule(s) and the page will load as expected.