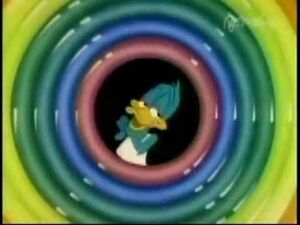 This is a list of episodes in The Plucky Duck Show. The series struggled to gain an audience, and was cancelled on December 12, 1992, with a total of only 13 episodes. With the exception of "The Return of Batduck", all segments were previously featured on Tiny Toon Adventures.
2. Ducklahoma / Video Game Blues / Yakkety Yak / Party Crasher Plucky
3. Minister Golf / Particle Man / Istanbul (Not Constantinople) / My Brilliant Revenge!
4. Kon Ducki
8. Going Up / Wait 'Till Your Father Gets Even / Never Too Late to Loon
9. Just-Us League of Supertoons / A Bacon Strip / Migrant Mallard
10. Hollywood Plucky
11. The Potty Years / Milk, It Makes a Body Spout / The Anvil Chorus
12. Slugfest / Duck Dodgers Jr. / Duck Trek
13. Best Of Plucky Duck Day
Ad blocker interference detected!
Wikia is a free-to-use site that makes money from advertising. We have a modified experience for viewers using ad blockers

Wikia is not accessible if you've made further modifications. Remove the custom ad blocker rule(s) and the page will load as expected.