Kwesi Nii-Lante Boakye (b. April 6, 1999) is an American child actor and voice artist, best known for being the first voice of Darwin Watterson in The Amazing World Of Gumball (Boakye has since been replaced by Terrell Ransom, Jr. [from season 3 to the season five episode "The Copycats"] and Donielle Hansley Jr. [as of the season five episode "The Copycats"] as the voice of Darwin due to his voice breaking from puberty).
Looney Roles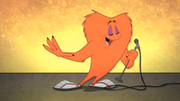 Ad blocker interference detected!
Wikia is a free-to-use site that makes money from advertising. We have a modified experience for viewers using ad blockers

Wikia is not accessible if you've made further modifications. Remove the custom ad blocker rule(s) and the page will load as expected.