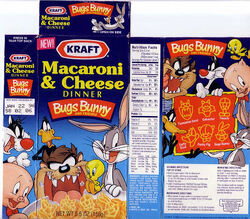 Kraft Dinner (Canada), known as Kraft Macaroni & Cheese or Kraft Mac and Cheese in the United States and Australia and Macaroni Cheese or Cheesey Pasta in the United Kingdom, is a packaged dry macaroni and cheese mix. The product was first introduced in 1937 in the United States by Grant Leslie of Dundee, Scotland. It is now available in several other formulations including Easy Mac, a single-serving designed specifically for cooking in microwaves.
There was a commercial for Kraft Macaroni & Cheese featuring the Looney Tunes characters in 1995. In 2000, Kraft Macaroni & Cheese sponsored Looney Tunes again for the "Mil-Looney-Um 2000" campaign.
Gallery
Commercials
Ad blocker interference detected!
Wikia is a free-to-use site that makes money from advertising. We have a modified experience for viewers using ad blockers

Wikia is not accessible if you've made further modifications. Remove the custom ad blocker rule(s) and the page will load as expected.