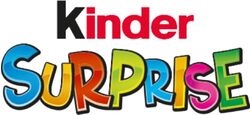 Kinder Surprise, also known as a Kinder Egg, or in the original Italian, Kinder Sorpresa, is a confection manufactured by Italian company Ferrero. Originally intended for children, it has the form of a chocolate egg containing a small toy, often requiring assembly. "Kinder" is the German word for "children". The food product is currently banned in the United States in fear that the kids will choke on the toy when eating the egg. But it's saved on other countries like Russia or Italy.
Videos
Ad blocker interference detected!
Wikia is a free-to-use site that makes money from advertising. We have a modified experience for viewers using ad blockers

Wikia is not accessible if you've made further modifications. Remove the custom ad blocker rule(s) and the page will load as expected.