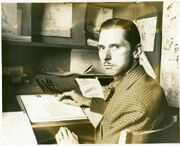 Karyl Ross "Ken" Harris (b. July 31, 1898-d. March 24, 1982) was one of the most definitive Warner Bros. animators. He animated under Chuck Jones' unit since his first cartoon in 1938: The Night Watchman, staying with Chuck through his 1960s Tom & Jerry cartoons. Before Chuck began directing, Ken worked on animated two Friz Freleng cartoons: Streamlined Greta Green and The Lyin' Mouse, as well as one Frank Tashlin cartoon: Have You Got Any Castles?. Ken directed his own cartoon in 1959: Hare-Abian Nights, which was a "cheater" starring Bugs Bunny and Yosemite Sam.
Looney Tunes Works
See the Category:Cartoons animated by Ken Harris
Gallery
Ad blocker interference detected!
Wikia is a free-to-use site that makes money from advertising. We have a modified experience for viewers using ad blockers

Wikia is not accessible if you've made further modifications. Remove the custom ad blocker rule(s) and the page will load as expected.