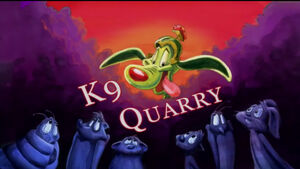 K9 Quarry is the second segment of the sixteenth episode of Duck Dodgers.
Plot
Commander X2 goes hunting on a woodsy planet. Unfortunately for him, so does another hunter.
Trivia
Yogi Bear, Boo Boo, Wally Gator, Hong Kong Phooey, and Top Cat all make cameos.
Ad blocker interference detected!
Wikia is a free-to-use site that makes money from advertising. We have a modified experience for viewers using ad blockers

Wikia is not accessible if you've made further modifications. Remove the custom ad blocker rule(s) and the page will load as expected.