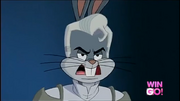 Jor-El is a character from The Looney Tunes Show, and he is the father of Bugs Bunny, who lives in the planet Cryton. He is voiced by Jeff Bergman.
Biography
He first appeared in Best Friends, where Bugs tells the origin story of Superman.
He last appeared in SuperRabbit.
Notes
There is a wrong in history, in the first episode the planet Crypton would be destroyed. But in the last implies that was not destroyed.
Ad blocker interference detected!
Wikia is a free-to-use site that makes money from advertising. We have a modified experience for viewers using ad blockers

Wikia is not accessible if you've made further modifications. Remove the custom ad blocker rule(s) and the page will load as expected.