John Kricfalusi
General information
Born:
Michael John Kricfalusi
September 9, 1955
Chicoutimi, Quebec
Died:
Cause of death:
Alternate names:
John K., Raymond Spüm, Raymond S., Billy Bunting
Occupation(s):
Director, producer, writer, animator, voice actor
Years active:
1979 - present
Spouse:
Children:
[Source]
Michael John Kricfalusi (born September 9, 1955) is a Canadian director, producer, writer, animator, and voice actor, best known as the creator of the animated TV series Ren & Stimpy.
Influences
Looney Credit(s)
References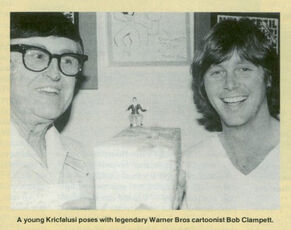 To see John Kricfalusi references, please visit the Looney Tunes In Pop Culture page.
Ad blocker interference detected!
Wikia is a free-to-use site that makes money from advertising. We have a modified experience for viewers using ad blockers

Wikia is not accessible if you've made further modifications. Remove the custom ad blocker rule(s) and the page will load as expected.