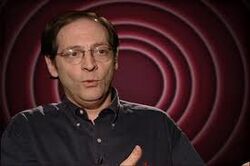 Jerry Beck (born February 9, 1955) is an American animation historian, producer, and author. He has written several books about Looney Tunes and Warner Bros. Animation.
Looney Books
The Warner Bros. Cartoons
Looney Tunes & Merrie Melodies: A Complete Illustrated Guide To The Warner Bros. Cartoons
I Tawt I Taw A Puddy Tat: 50 Years Of Sylvester & Tweety
Warner Bros. Animation Art: The Characters, The Creators, The Limited Editions
Looney Tunes: The Ultimate Visual Guide
The 100 Greatest Looney Tunes Cartoons
Ad blocker interference detected!
Wikia is a free-to-use site that makes money from advertising. We have a modified experience for viewers using ad blockers

Wikia is not accessible if you've made further modifications. Remove the custom ad blocker rule(s) and the page will load as expected.