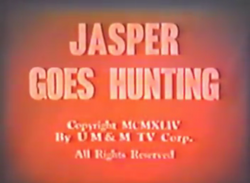 Jasper Goes Hunting is an animated short film in the Puppetoons series, directed by George Pal and first released on July 28, 1944. The short was distributed by Paramount Pictures. The short includes a cameo of Bugs Bunny, voiced by Mel Blanc, and animated by Bob McKimson.
Bugs' cameo
During the cartoon, the Scarecrow points his gun at a rabbit hole and orders its resident to come out. Bugs Bunny emerges, notices his surrounding and realizes that he is in "the wrong picture". He then returns to his hole.
Gallery
Video
Ad blocker interference detected!
Wikia is a free-to-use site that makes money from advertising. We have a modified experience for viewers using ad blockers

Wikia is not accessible if you've made further modifications. Remove the custom ad blocker rule(s) and the page will load as expected.