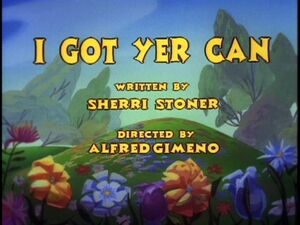 I Got Yer Can is a Slappy Squirrel cartoon, released on October 25, 1993.
Plot
After Slappy throws a soda can out, a clash begins with her and her neighbor Candie Chipmunk.
Notes
The Music of Tchaikovsky's Nutcracker was heard when Candie Chipmunk was around
This cartoon is based on a true story. Sherri Stoner moved to a new neighborhood, and she was throwing away her Diet Coke can into another neighbor's bin, but her neighbor asked Sherri to use her own bin.
The game show that Candie appears on is a parody of Let's Make a Deal. The Warners make a cameo and do their "Hello, Nurse!" routine.
At one point, Candie types endlessly on a typewriter "All work and no cans make Candie a dull Chipmunk," a parody of the scene from the film The Shining.
Skippy says his catchphrase, "Spew!" for the first time.
When she first meets Candie, Slappy says, "Allen Funt is a dead man!" In other words, she briefly believes that she is on Candid Camera, the prank show hosted by Funt.
The game show is hosted by Blink Winkleman, a semi-recurring character from Tiny Toon Adventures, and it is also a parody of the game show Let's Make a Deal.
Each time Candie gets the can back, a five-note melody entitled "You're a Horse's Ass" can be heard. This melody is best remembered as the opening music for the Private Snafu shorts during WWII.
Ad blocker interference detected!
Wikia is a free-to-use site that makes money from advertising. We have a modified experience for viewers using ad blockers

Wikia is not accessible if you've made further modifications. Remove the custom ad blocker rule(s) and the page will load as expected.