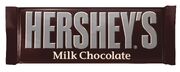 The Hershey Company, known until April 2005 as the Hershey Foods Corporation and commonly called Hershey's, is the largest chocolate manufacturer in North America. Its headquarters are in Hershey, Pennsylvania, which is also home to Hershey's Chocolate World. It was founded by Milton S. Hershey in 1894 as the Hershey Chocolate Company, a subsidiary of his Lancaster Caramel Company. Hershey's products are sold in about sixty countries worldwide. In addition, Hershey is a member of the World Cocoa Foundation.
Wile E. Coyote and Road Runner were featured in commercials for the product in 1986.
Commercials
Ad blocker interference detected!
Wikia is a free-to-use site that makes money from advertising. We have a modified experience for viewers using ad blockers

Wikia is not accessible if you've made further modifications. Remove the custom ad blocker rule(s) and the page will load as expected.