Haredevil Hare
Haredevil Hare is a 1948 Looney Tunes cartoon directed by Chuck Jones. This was the latest cartoon that was sold to Associated Artists Productions in the 1950s.
Title
The title is a play on "daredevil".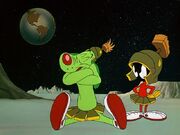 Plot
Bugs Bunny is tricked into being the first rabbit on the moon. When he lands on the moon he finds Marvin the Martian about to blow up the Earth with his Uranium PU36 Explosive Space Modulator. Bugs deals with the Martian and his dog K-9 and steals the modulator. Then he gives it back, intending to blow up Marvin, but blows up the moon instead.
Availability
External Links
Haredevil Hare at SuperCartoons.net Haredevil Hare at B99.TV
See also List of Bugs Bunny cartoons