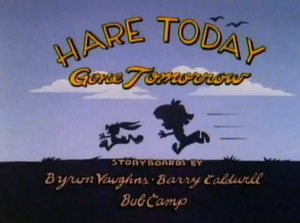 Hare Today, Gone Tomorrow 
is the 18th episode of 
Tiny Toon Adventures
, originally broadcasted on October 9th, 1990.
Plot
Buster Bunny is brought home by Elmyra, but tries to escape when he realizes how awful it is. Before leaving, Buster frees the other pets Elmyra has locked up, but he himself is recaptured. Babs, Fifi, Furrball and Tyrone Turtle come to the rescue.
Ad blocker interference detected!
Wikia is a free-to-use site that makes money from advertising. We have a modified experience for viewers using ad blockers

Wikia is not accessible if you've made further modifications. Remove the custom ad blocker rule(s) and the page will load as expected.