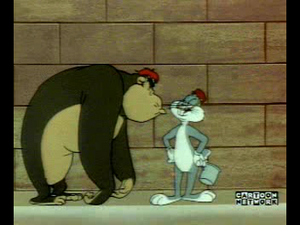 Gruesome Gorilla is a fictional large, beastly and ill-tempered gorilla from the Looney Tunes collection of animated shorts.
History
He first appeared with Bugs Bunny in the 1948 short Gorilla My Dreams. In the cartoon, Bugs almost became his son. Gruesome's second appearance was in Hurdy-Gurdy Hare. His third and last appearance was in Apes of Wrath (albeit redesigned), with almost the same plot as Gorilla My Dreams (in both cartoons, Gruesome, who hated the idea of becoming a father, behaves in an abusive manner toward Bugs).
Gruesome later appeared as a boss in the video game, Bugs Bunny and Taz: Time Busters.
Notes
All of his cartoon appearances involved Bugs Bunny.
Gallery
Ad blocker interference detected!
Wikia is a free-to-use site that makes money from advertising. We have a modified experience for viewers using ad blockers

Wikia is not accessible if you've made further modifications. Remove the custom ad blocker rule(s) and the page will load as expected.