Good Night Elmer is a 1940 Merrie Melodies cartoon directed by Chuck Jones.
Plot
The cartoon depicts the ill-fated attempts of Elmer Fudd, in a rare leading role, to extinguish a candle by his bedside so that he can retire for the night, with the flame always surging again in spite of Elmer's best efforts. Elmer finally succeeds, but only at the expense of wrecking his bedroom in the process, and no sooner than he lies down, the sun comes up, precipitating a nervous breakdown in Elmer Fudd.
Notes/Goofs
Arthur Q. Bryan didn't voice Elmer in this cartoon, as Elmer did not have any dialogue. Mel Blanc provided the weeping and bawling heard at the end.
This cartoon has a special rendition of the Merrily We Roll Along theme.
Credits on the title card are the same as Elmer's Pet Rabbit as they are both directed by Chuck Jones.
Animation of Elmer Fudd crying at the end of the cartoon is recycled animation from Old King Cole crying at the end of The Merry Old Soul.
In some shots of Elmer wrecking the candle with an axe near the end of the cartoon his bare bottom is exposed under his nightshirt (as pictured in the middle right of the page), because he did not wear any pants or underwear inside.
Because the cartoon has no dialogue, both the USA and EU Turner "dubbed version" transfers keep the original ending card, unlike most dubbed version cartoons, although some non-dialogue shorts such as "Rhapsody in Rivets" (1941) and "Double Chaser" (1942) have dubbed ending cards. In addition, the original ending music is kept.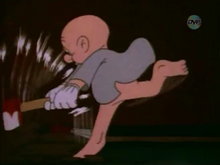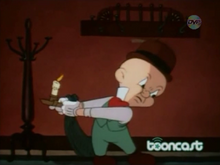 Availability
External links