Good Night Elmer is a Merrie Melodies cartoon short released by Warner Bros. on October 26, 1940, directed by Chuck Jones, animated by Philip Monroe and written by Rich Hogan.
Plot
The cartoon depicts the ill-fated attempts of Elmer Fudd, in a rare leading role, to extinguish a candle by his bedside so that he can retire for the night, with the flame always surging again in spite of Elmer's best efforts. Elmer finally succeeds, but only at the expense of wrecking his bedroom in the process, and no sooner than he lies down, the sun comes up, precipitating a nervous breakdown in Fudd.
Trivia
Arthur Q. Bryan didn't voice Elmer in this cartoon, as Elmer did not have any dialogue. Mel Blanc provided the weeping and bawling heard at the end.
Credits on the title card are the same as Elmer's Pet Rabbit as they are both directed by Chuck Jones.
Animation of Elmer Fudd crying at the end of the cartoon is recycled animation from Old King Cole crying at the end of The Merry Old Soul.
In some shots of Elmer wrecking the candle with an axe near the end of the cartoon his bare bottom is exposed under his nightshirt (as pictured in the middle right of the page), because he did not wear any pants or underwear inside.
Because the cartoon has no dialogue, both US and EU Turner "dubbed versions" preserve the original ending card, although some with no dialogue do have the "dubbed" end card. Another cartoon with both dubbed versions to keep the original ending is Peck Up Your Troubles.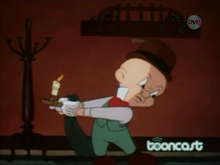 External links
Ad blocker interference detected!
Wikia is a free-to-use site that makes money from advertising. We have a modified experience for viewers using ad blockers

Wikia is not accessible if you've made further modifications. Remove the custom ad blocker rule(s) and the page will load as expected.