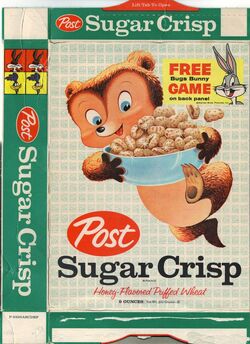 Golden Crisp, originally marketed as Sugar Crisp, is a breakfast cereal made by Post Cereals which consists of sweetened puffed wheat. It was introduced in 1949 as Sugar Crisp.[citation needed|date=]
The older commercials feature Bugs Bunny and various Looney Tunes characters.
In 1995, Post Cereals promotes six Looney Tunes figures from Raisin Bran, Honey Comb, and Golden Crisp.
Notes
Commercials