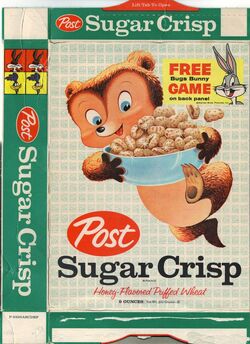 Golden Crisp, originally marketed as Sugar Crisp, is a breakfast cereal made by Post Cereals which consists of sweetened puffed wheat. It was introduced in 1949 as Sugar Crisp.[citation needed|date=]
The older commercials feature Bugs Bunny and various Looney Tunes characters.
In 1995, Post Cereals promotes six Looney Tunes figures from Raisin Bran, Honey Comb, and Golden Crisp.
Notes
Commercials
Ad blocker interference detected!
Wikia is a free-to-use site that makes money from advertising. We have a modified experience for viewers using ad blockers

Wikia is not accessible if you've made further modifications. Remove the custom ad blocker rule(s) and the page will load as expected.