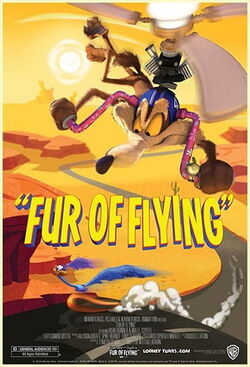 Fur Of Flying
is a 2010 CGI animated short, starring
Wile E. Coyote
and
Road Runner
. It was released in theaters alongside
Legend Of The Guardians: The Owls of Ga'Hoole
.
Plot
Using a makeshift copter-helmet, Wile E. Coyote intends to catch Road Runner, whilst avoiding heat-seeking missiles. The start shows "ACME Bonnie Bike, Football helmet, Mega-Motor and Celling Fan(with 4 blades wooden)"Coyote shows the camera his Copter helmet and teeth(1 tooth sparkles)he hears the roadrunner and chases him. Coyote is ablout to grab him but crashes into the cactus the copter brakes and Coyote saves is life reactivating the fan but 2 missiles chase him. The red one chases the roadrunner as the blue one stays after Coyote. Coyote lands on a very high lengh rock but the missile is stuck on a branch. Coyote's fan accidently activates as poor Coyote tries to stop but the missle blows up and the rock carries coyote falling back to Earth the last missle heads to Coyote as the Roadrunner escapes Coyote activates the chopper but his helmet comes off escaping as Coyote stuck the missile Blows up turning Coyote black-gray. he displays a Yellow Burnt Lettered "Thats All Folks!" sign before passing out.
Gallery
Ad blocker interference detected!
Wikia is a free-to-use site that makes money from advertising. We have a modified experience for viewers using ad blockers

Wikia is not accessible if you've made further modifications. Remove the custom ad blocker rule(s) and the page will load as expected.