Fowlmouth
Background information
Species:
Rooster
Gender:
Male
Debut appearance:
"Test Stress"
(September 18, 1990)
Created by:
Portrayed by:
Rob Paulsen
[Source]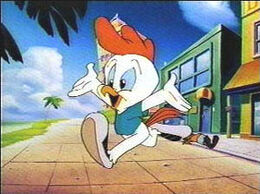 Fowlmouth is one of the minor characters on the animated series Tiny Toon Adventures. He was a young rooster with a New York accent, voiced by Rob Paulsen introduced with a seemingly mellow personality but, as his name alluded to, had a tendency to explode into bleeped-out graphic swearing whenever things didn't go his way. He was later cured of this habit per request, (in order to score a date with Shirley the Loon) when his refusal to swear in front of babies was exploited. This was particularly ironic, given the target audience of the show.
He made slightly more frequent appearances later, revealing he was still somewhat pushy and rude, especially in movie theaters. He has since replaced swearing with the euphemism "dad gum".
His mentor is, not surprisingly, the loud and pompous Foghorn Leghorn. His high-pitched voice and nigh-permanently angry temperament are also reminiscent of Foghorn's sometime-opponent, Henery Hawk.
Gallery
Ad blocker interference detected!
Wikia is a free-to-use site that makes money from advertising. We have a modified experience for viewers using ad blockers

Wikia is not accessible if you've made further modifications. Remove the custom ad blocker rule(s) and the page will load as expected.