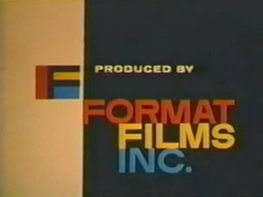 Format Films was a television animation studio which was founded by Herbert Klynn in 1959 with Jules Engel as vice president, Herb McIntosh and Joseph Mugnaini. It was most active during the 1960s, producing episodes of The Alvin Show and Popeye the Sailor. Klynn shut his studio in 1962 but reopened it by 1965 as Format Productions. The studio made eleven shorts in Warner Bros.' theatrical Road Runner series as well as three theatrical Daffy Duck and Speedy Gonzales shorts, and produced The Lone Ranger in 1966.
Format Productions also created title sequences for several TV series, including I Spy, Honey West, the animated characters on the television variety show Hee Haw, animated various TV commercials, and created film title designs for The Glory Guys and Clambake.
Filmography
Theatrical Shorts
Ad blocker interference detected!
Wikia is a free-to-use site that makes money from advertising. We have a modified experience for viewers using ad blockers

Wikia is not accessible if you've made further modifications. Remove the custom ad blocker rule(s) and the page will load as expected.