| | |
| --- | --- |
| This page or section is under construction. Please help us work on it. | |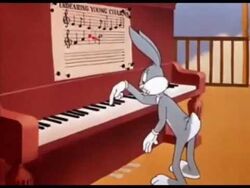 The "Exploding Piano Gag" is a recurring gag in Looney Tunes, first introduced by director Bob Clampett in the Private Snafu cartoon Booby Traps. It was later adopted and developed by director Friz Freleng.
The gag often features the cartoon's antagonist rigging a piano key with dynamite when the protagonist is about to play Those Endearing Little Charms. Naturally, the protagonist skips over the key, and the antagonist tells them to try again; after the same thing happens once or twice, the antagonist exasperatedly shows them how to play the song correctly, resulting in them getting blown up. This was ruled out in Slappy Goes Walnuts, Doug the Dog is blown up instead, Slappy confirming "Old gag, new twist".
Known Uses
Ad blocker interference detected!
Wikia is a free-to-use site that makes money from advertising. We have a modified experience for viewers using ad blockers

Wikia is not accessible if you've made further modifications. Remove the custom ad blocker rule(s) and the page will load as expected.