| | |
| --- | --- |
| This page is under construction and as such requires a major cleanup. | |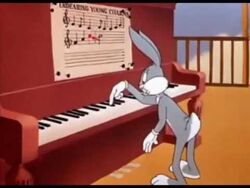 The "Exploding Piano Gag" is a recurring gag in Looney Tunes, developed by director Friz Freleng.
The gag often features the cartoon's antagonist rigging a piano key with dynamite when the protagonist is about to play Those Endearing Little Charms. Naturally, the protagonist skips over the key, and the antagonist tells them to try again; after the same thing happens once or twice, the antagonist exasperatedly shows them how to play the song correctly, resulting in them getting blown up.
Known Uses