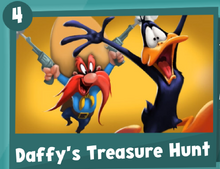 Daffy's Treasure Hunt is the fourth episode of the Looney Tunes Dash! Mobile Game Series. In this episode, the player now gets to control Daffy Duck. To get to the goal, which is going back for the treasure, Daffy must complete certain objectives as with the other episodes.
Looney Card Collection for Episode 4
Ad blocker interference detected!
Wikia is a free-to-use site that makes money from advertising. We have a modified experience for viewers using ad blockers

Wikia is not accessible if you've made further modifications. Remove the custom ad blocker rule(s) and the page will load as expected.