Ad blocker interference detected!
Wikia is a free-to-use site that makes money from advertising. We have a modified experience for viewers using ad blockers

Wikia is not accessible if you've made further modifications. Remove the custom ad blocker rule(s) and the page will load as expected.
"Wabbit Season" is the first episode of the Looney Tunes Dash! Mobile Game Series. In the first episode of the game series, the player plays as Bugs Bunny as he is chased by Elmer J. Fudd throughout the forest. To get past the goal, certain objectives must be done. But seeing as how this is the first level, most of them are tutorials which involve reaching the goal. 
Levels and Objectives
Level
Objective
Items and Power-Ups Found
Expert Path Locations
Looney Card
1
Reach Home
None
None
None
2

Reach Home

ACME Vac
None
None
3

Reach Home

Looney Card, Gossamer Potion
None
Leopold
4

Reach Home

Looney Card, Super Hero Badge
On the right
Hare's looking at you, kid
5

Reach Home

Mystery Boxes (2), ACME Vac, Looney Card
On the right
A Beautiful Valkyrie
6
Collect Carrots (10)
Carrots, Mallet, Looney Card
On the left
Bugs the Martian
7
Collect Carrots (20)
Carrots
On the right
None
8
Collect Carrots (30)
Carrots, Looney Card

, ACME Vac (2)

None
Hare-stylist
9
Collect Carrots (15)
Carrots, Looney Card, Mystery Gift
None
Blue Bow Bugsy
10
Collect Carrots (25)
Carrots, ACME Vac, ACME Bonus Rocket
None
None
11

Smash ACME Crates (30)

Looney Card, Super Stomp
On the right
King Authur
12

Smash ACME Crates (30)

Mystery Gift
None
None
13
Smash ACME Barrels (48)
Looney Card,  Mystery Gift
On the right
Ali Baba Bunny
14
Smash ACME Barrels (35)
On the right
None
15

Smash ACME Barrels (50)

Looney Card, 
Bugs the Bullfighter
Walkthrough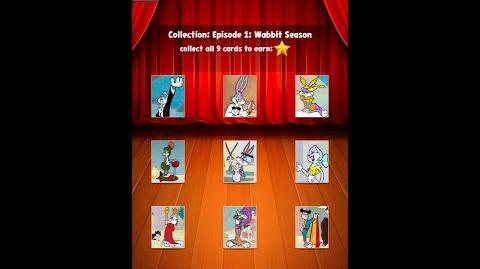 Looney Card Collection for Episode 1
Card #
Img.
Name
Short
Can be found in
1
Leopold

Long-Haired Hare | Aired: June 25, 1949

Level 3
2
Hare's looking at you, kid
Carrotblanca

| 

Aired:

 August 25, 1995

Level 4

3
A Beautiful Valkyrie
What's Opera, Doc?

| 

Aired: 

July 6, 1957

Level 5
4
Bugs The Martian
Haredevil Hare

| 

Aired:

 July 24, 1948

Level 6
5
Hare-stylist
Rabbit of Seville

|

Aired: 

December 16, 1950

Level 8
6
Blue Bow Bugsy
Hillbilly Hare

| 

Aired:

 August 12, 1950

Level 9
7
King Arthur
Rabbit Hood

|

Aired:

 December 24, 1949

Level 11
8
Ali Baba Bunny
Ali Baba Bunny

|

Aired: 

February 9, 1957

Level 13
9
Bugs the Bullfighter
Bully for Bugs

| 

Aired:

 August 8, 1953

Level 15
Looney Tunes Obstacle Characters
Daffy Duck: 
Porky Pig:
Yosemite Sam:
Taz:
Witch Hazel:
Marvin the Martian: 
Foghorn Leghorn: 
Beaky Buzzard: