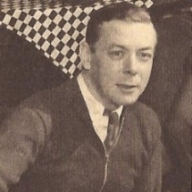 Earl Duvall (April 2, 1898[1] – January 7, 1969) was an American artist and animator best known for his work on Walt Disney comic strips in the early 1930s and for a handful of animated cartoon short subjects he directed at Warner Bros. Cartoons.
He was invited to Warner Bros. in 1933 along with fellow Disney animator Tom Palmer to head up the studio in the wake of Hugh Harman and Rudolf Ising's departure. In the event, Duvall was delayed working on other projects at Disney, and by the time he got to Warner Bros. Palmer had already been fired and replaced by Friz Freleng. During his time there, Duvall directed a number of cartoons based around surprisingly adult themes, and was allowed to direct the studio's first color cartoon, "Honeymoon Hotel" in 1934.
However, after a drunken argument with producer Leon Schlesinger, Duvall was replaced by Jack King as director.
Duvall died in 1969, the same year as the last classic Looney Tunes cartoon was released.
Looney Works
As Director/Supervisor.[2]
Cite error: <ref> tags exist, but no <references/> tag was found
Ad blocker interference detected!
Wikia is a free-to-use site that makes money from advertising. We have a modified experience for viewers using ad blockers

Wikia is not accessible if you've made further modifications. Remove the custom ad blocker rule(s) and the page will load as expected.