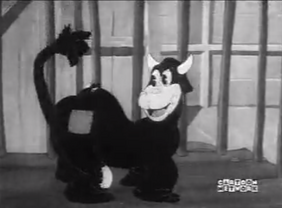 The Drunken Bull played a small role as a supporting character in the Porky Pig cartoon, "Picador Porky". While the character's role in Looney Tunes was limited, he is notable for being the very first character to be voiced by Mel Blanc.
Appearances
Notes
He is not to be confused with Toro the Bull, who also appeared in Space Jam.
Ad blocker interference detected!
Wikia is a free-to-use site that makes money from advertising. We have a modified experience for viewers using ad blockers

Wikia is not accessible if you've made further modifications. Remove the custom ad blocker rule(s) and the page will load as expected.