Discovery Family is a cable TV channel that launched on October 13, 2014, replacing The Hub. The programming is currently split into 12-hour halves, with Hasbro programming on one half and Discovery programming on the other. 
The Hub (2010 - 2014)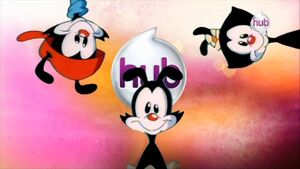 The Hub
was a cable TV channel created in
2010
 that replaced the Discovery Kids channel. Its programming is based around a dual audience, showing new and acquired children's programming during the day, and programming for teens and older at night. It is noted for including reruns of classic TV shows that have not been broadcast for some time, though it is also known for its original programs such as
Transformers: Prime
,
Dan Vs.
, and most notably,
My Little Pony: Friendship is Magic
.
Wakko's Wish was broadcast on the channel in November 2012 as a Hub family movie. Jess Harnell reprised his role as Wakko in a promo for the film. The Hub later announced that they would be airing reruns of Animaniacs, starting with a four-hour marathon on December 24 and the show officially joining the network's line-up on January 7, 2013. Special dialogue was provided by Rob Paulsen, Tress MacNeille, and Jess Harnell for the promos announcing the show's inclusion. Tiny Toon Adventures joined the line-up on July 1, 2013.
Discovery Family (2014 - present)
On October 13, 2014, after failing to gain enough viewers with competition such as Nickelodeon and Cartoon Network, the Hub Network was disbanded and was relaunched as Discovery Family. Tiny Toon Adventures was the only Looney Tunes-related program that carried over to the new channel, airing weekday mornings at 7:30am and 8am ET. Animaniacs was originally scheduled to continue broadcasting on Discovery Family, but was pulled from the line-up before launch. Tiny Toon Adventures left the programming lineup shortly after in 2015, resulting in the total removal of all WB cartoons from Discovery Family.
External links
Ad blocker interference detected!
Wikia is a free-to-use site that makes money from advertising. We have a modified experience for viewers using ad blockers

Wikia is not accessible if you've made further modifications. Remove the custom ad blocker rule(s) and the page will load as expected.