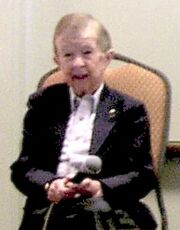 Richard "Dick" Beals (March 16, 1927 – May 29, 2012) was an American voice actor. He performed many voices in his career, which spanned the period from the early 1950s into the 21st century. He specialized primarily in doing the voices of young boys.
Perhaps his most recognizable characterization was the voice of the stop-motion animation figure called "Speedy Alka-Seltzer", featured in television commercials for more than 50 years.
Looney Role(s)
In 1953, Beals was hired to do the voice for his first cartoon character. This was Ralph Phillips, a Walter Mitty-type boy in "From A to Z-Z-Z-Z" by Warner Bros. Cartoons. The cartoon was nominated for an Academy Award. He would reprise his role as Ralph in "Boyhood Daze" in 1957 and again in the television pilot Adventures of the Road-Runner in 1960 and in the short cut from it, "Zip Zip Hooray!".
Ad blocker interference detected!
Wikia is a free-to-use site that makes money from advertising. We have a modified experience for viewers using ad blockers

Wikia is not accessible if you've made further modifications. Remove the custom ad blocker rule(s) and the page will load as expected.