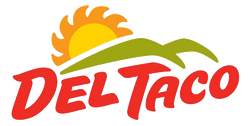 Del Taco is an American fast-food restaurant chain which specializes in Tex-Mex cuisine such as burritos, tacos, and nachos. Most restaurants also offer American foods such as burgers, fries, and shakes. Del Taco is led by Paul Murphy, the Chairman and CEO, and is headquartered in the city of Lake Forest, California.
In 1980, a commercial for Del Taco advertised an offer for Pepsi Looney Tunes glasses.
Commercial
Ad blocker interference detected!
Wikia is a free-to-use site that makes money from advertising. We have a modified experience for viewers using ad blockers

Wikia is not accessible if you've made further modifications. Remove the custom ad blocker rule(s) and the page will load as expected.